Decades-Long Partnerships Vital to Kemper Development's Lincoln Square Expansion Success
Kemper Development Company of Bellevue, Washington is the premier real estate development company of the region. For four generations, the Freeman family has been intimately involved with the development of Bellevue and the surrounding areas. Their goal has been and always will be making the area a world-class destination for people to work, play, and live.
Their most recent major project was the construction of Lincoln Square South, an expansion of the Bellevue Collection. Lincoln Square South was designed to add to the synergy of this already healthy growing community.
With over 180,000 square feet of retail, dining, and entertainment space on three levels, including a 31-floor office tower; a 41-floor residential tower including a W hotel plus 218 luxury apartments. The 1.5 million square foot project became a monumental task which had to be carefully planned and executed.
The Challenge
A project of this immensity required careful planning, coordination, and a massive amount of manpower. As marketing director Jennifer Leavitt explained, the impact of construction on the community is a major concern. Creating a mixed-use project of this magnitude has its challenges.
According to Leavitt, "You're building in a downtown, urban setting and we don't believe in messing up the traffic pattern, for not only our projects that are adjacent to it, but also the consumer and those people visiting. Because Kemper Freeman lives in our projects and has a legacy family history in helping build value, we're very conscious of the impact that we make during construction. So, that in itself makes it a challenge."
Kemper Development Company carefully considered its options when choosing contractors for the project. After deliberating all the pros and cons, they settled on longtime partners they knew they could trust.
The Solution
GLY was chosen as the General Contractor for the Lincoln Square Expansion project. To handle the electrical, data, networking, and life safety systems, Kemper knew that Nelson Electric was the only choice that made sense.
Because of their relationship that spans over 30 years, Nelson Electric was already aware of Kemper's expectations and requirements. Kemper knew they could count on Nelson to provide their best performance and attention to detail in all the services they provided. They were not disappointed with their choice.
This expansion project was Nelson Electric's largest contract to date, coming in at over 61 million dollars for the services provided.
As mentioned, minimal disruption to the community was an essential aspect of the project. Working with the GC, Nelson's goal was to exceed performance objectives while maintaining a rigorous and challenging construction schedule.
"The biggest challenge was the intensity of the schedule and blending all the new retail tenants and office tenants into the project," said Marv Nelson, CEO, president and owner of Nelson Electric. "We were interfacing 26 retail tenants and 38 floors of office tenants into the building shell and core."
According to Kevin Nelson, "Nelson's team of Electrical and Low Voltage Designers coupled with an exceptional field crew of 200, provided a team effort of performance to complete this project on time and within budget."
Kemper also knew that Nelson Electric could be trusted to make the right decisions, select the right products and to integrate the best possible Electrical/ Data/ Networking and Life Safety Systems possible.
The Results
Now completed, the $1.2 billion Lincoln Square South is one of the largest mixed-use projects in the Northwest. It has earned the ENR Northwest's 2018 Office/Retail/Mixed-use Award of Merit.
With the addition of Lincoln Square South, the city continues to grow and flourish. The added office spaces, dining and entertainment venues, and living accommodations will serve the area for years to come.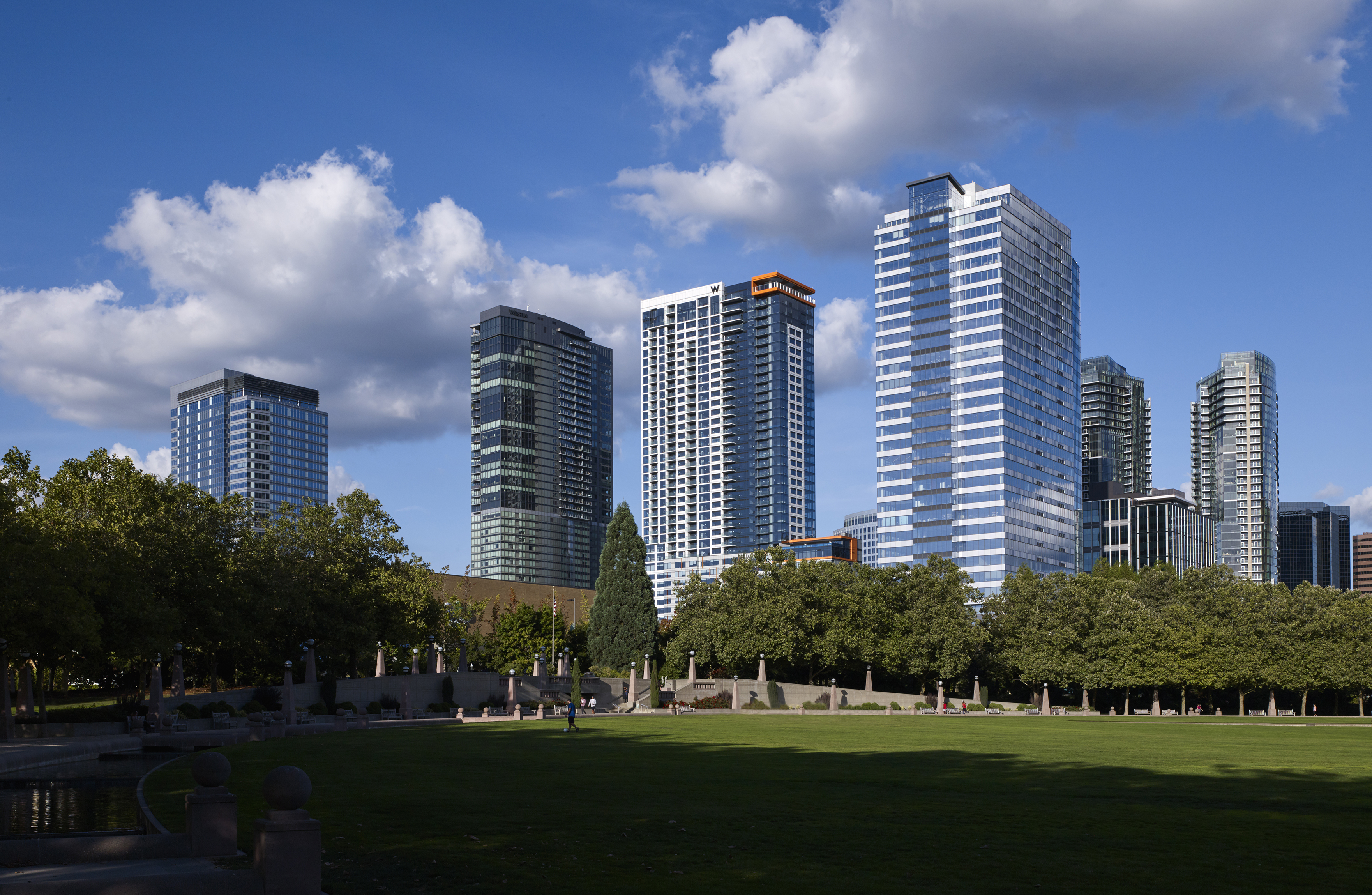 Will Kemper Development Company call on Nelson Electric again?
Marketing Director Jennifer Leavitt put it this way.
"We're very loyal. They're in our office almost every day... We work closely with Nelson, and these are folks that know our properties well... it's just such a good match.
And we respect each other's capabilities. So, for us, that really cements that idea of getting to the finish line together because we know how to work together."